How to Adopt Wi-Fi 6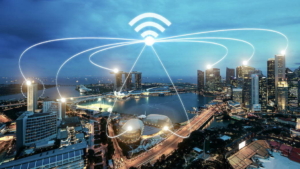 Wondering how to adopt wi-fi 6?  Wi-Fi 6 is the new standard of Wi-Fi that's promised to increase speed, efficiency, and device management for improved performance in congested areas such as restaurants, offices, campuses, retail and grocery stores.
This sounds like a dream come true for businesses that continually have Wi-Fi performance issues that not only impact business but result in a long list of complaints. Take for example the retail stores that now use Wi-Fi enabled Point-of-Sale (POS) scanners and other devices. Or, the influx of customers using grocery retailers' apps and Wi-Fi for product information and store placement. Or, the office where someone watching a cat video in the lunchroom is impacting how fast the CEO can download a report on his or her phone. For many mid-market organizations, the fast-evolving demands for Wi-Fi exceed the network's ability to support it.
If you're on the IT team looking at this problem, you considering how to tackle this issue when you already have a full-time job managing computers, applications, printers, and the normal day-to-day needs of those using the network.
The go-to answer may seem to go and buy Wi-Fi 6 devices. Before you do that, read this post. A quick purchase may not give you all the capabilities you want.
Follow these steps to Wi-Fi 6 adoption to make sure you're meeting immediate and future needs while making the most of your time and resources.
Review Inventory and Refresh Cycle
Take a good look at what's in your network and the capabilities. For example, if your switches can't handle the traffic from the Wi-Fi 6 access point, you're not going to get the Wi-Fi 6 benefits. If you purchased switches within the last twelve months, you may be even more prepared to take the next step because most new switches have the high capacity to operate Wi-Fi 6 traffic. If your switches have less than 2.5 gig through-put, you may need to refresh your switches.
Identify Client Devices Supporting Wi-Fi 6
Part of the research includes analyzing the client devices on the network such as phones, laptops, tablets, POS scanners, and other devices. This includes the user devices (i.e. personal phones and laptops) brought onto the network.
Are you seeing more devices that are Wi-Fi 6 compatible? If not, when are the next generations coming out that will be Wi-Fi 6 compatible? How well does this coordinate with your refresh cycle?
Most manufacturers have released or plan to release new devices that are Wi-Fi 6 compatible. This is good news because Wi-Fi 6 access points are backward compatible with previous generations of Wi-Fi. Devices that are Wi-Fi 5 compatible will still operate on Wi-Fi 5 instead of Wi-Fi 6 but, you'll have the Wi-Fi 6 access points when the phones are upgraded soon. In this case, it's worth purchasing the Wi-Fi 6 access points in your upcoming refresh.
Plan
Now that you have a deep understanding of your current resources, make a plan for how your Wi-Fi will be used. What are the company policies and procedures? How should they change to better meet customer and security needs as Wi-Fi demands and threats evolve?
Research Manufacturers and Purchase
This is an imperative step because, in addition to making sure the equipment is compatible with your network infrastructure that is not up for refresh yet, you'll need to compare capabilities, pricing, and overall contracts across vendors.
Some manufacturers take extra steps to make the transition to Wi-Fi 6 easier. For example, CommScope Wi-Fi 6 access point radios can support up to 10 gigs of data but will work with 2.5 or 5 gig connections.
Deploy
Put the new equipment where it needs to go and connect it.
Configure
Configure the protocols to match the company policies and procedures and how you intend the Wi-Fi to be used.
The Easier Way
Adopting Wi-Fi 6 to match your company goals, budget, policies, and operations may not be as simple as purchasing a few more Wi-Fi 6 devices to "plug-and-play." Some time and expertise in planning, research, vendor review, deployment, and configuration are needed to give you the performance and ease of management needed.
IT solutions partners like EdgeTeam already have a deep understanding of most, if not all, manufacturers. They can also get you the infrastructure at a lower cost. It's why we have a large client base with mid-market sized organizations. They want the IT team focused on their expertise and responsibilities while having a trusted partner to get them a good deal with fast, efficient deployment.
Next Steps
These are just a few of many questions you need to consider when building your network performance and security strategy across multiple locations and users.
Your team is busy managing a range of IT responsibilities. Let us help save you time and stress by and discussing what strategies and technologies can benefit your goals, operations, and budget.
Reach out today to start a conversation. Call us at 817-953-2750 or submit the contact form.
If you enjoyed this article, please check out How companies use AI driven Wifi
Partnership
This article is brought to you by CommScope. CommScope and the recently acquired ARRIS and Ruckus Networks are redefining tomorrow by shaping the future of wired and wireless communications.
https://www.commscope.com/ruckus/